autoCheck
CONTEXT
Personal Work

Fall - 2018
4 weeks

TEAM

Rachel Park
Hannah Cai

CONTRIBUTIONS
user research
UI/UX design
---
Taking attendance is a hassle and a waste of time for both students and professors/TAs.
The problem scope we wanted to explore was the attendance system at CMU. In many classes, especially large lecture classes, taking attendance can be a hassle and a waste of time. In some classes, there are already alternate attendance systems used, such as scanning QR codes. However, this method still presents its issues; a student could mark themselves present if a friend sent them an image of the QR code.

---
How can we bring more effective, efficient attendance system to campus community to have productive classtime and show integrity?
---
autoCheck is an app that helps students automatically check in based on location match.

The solution we created was an attendance app called "autoCheck". Autocheck aims to be a model that's able to be used campus-wide and close the loopholes of taking attendance. We chose an app as our final solution because it'd be highly unlikely for students surrender their phone to a friend, there discouraging the faking of attendance. There are separate features for two user groups: students and professors/TAs.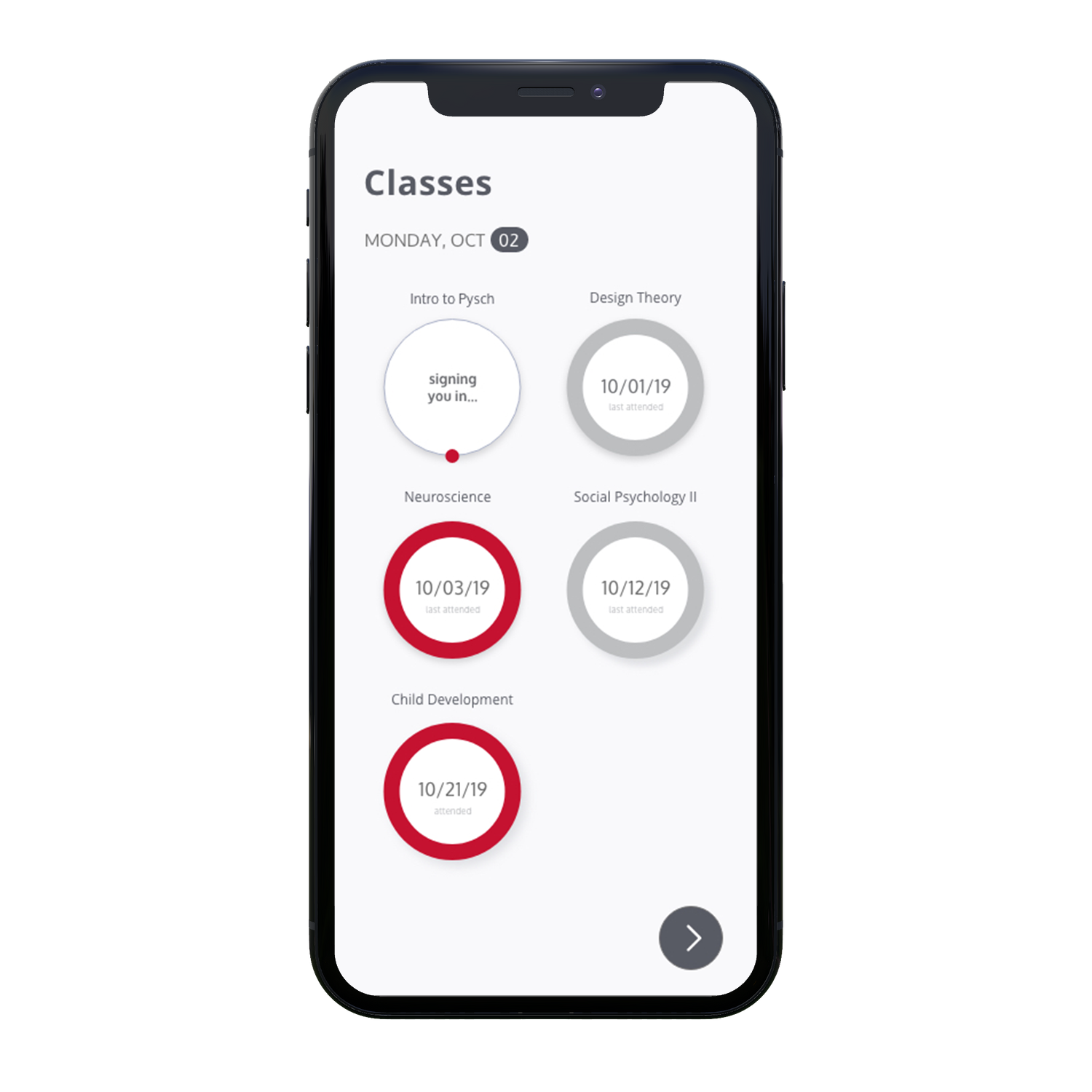 Automatic Check-in Based on Location
---
This app records attendance based on student location at the time of the class. If students are in the classroom by the target time, they are automatically checked in. This attacks the paint point of professors, TAs, and students who think attendance is a hassle.

AutoCheck only checks if students' locations match the class location during class time (in other words, it doesn't collect location tracking data).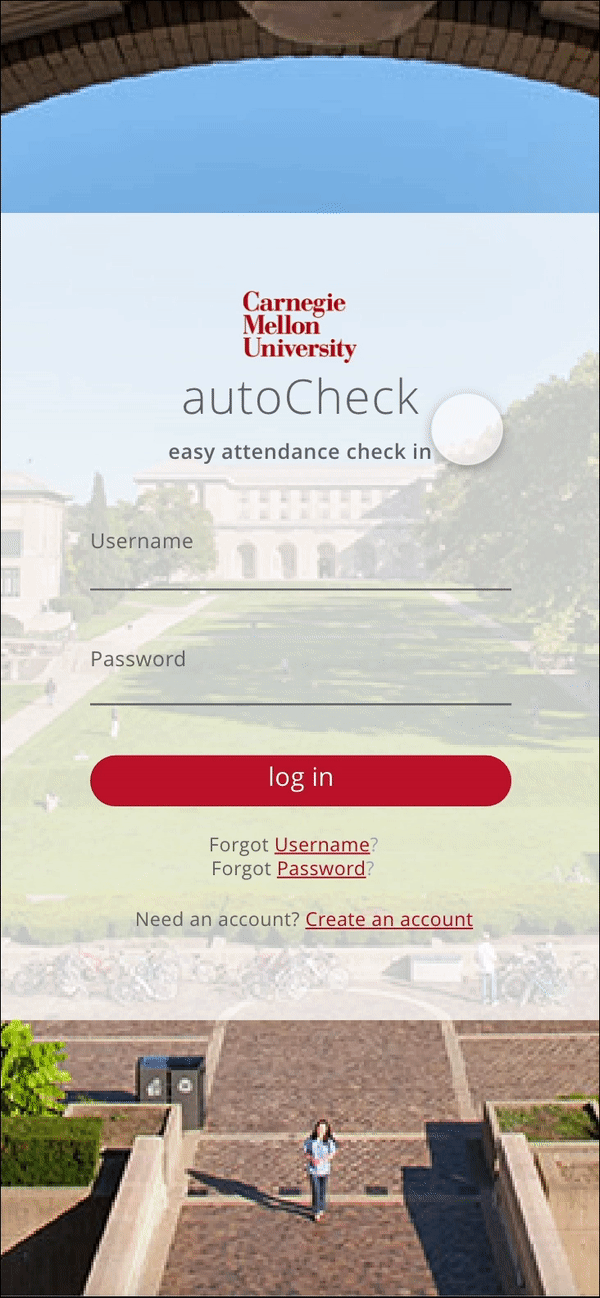 Feature Two
Ability to Personalize Grace Days/Time for Each Class
---
Professors can personalize grace days/time for each class and number of minutes before marked being absent

*With a grace day, you can submit an assignment an extra day late with no points off.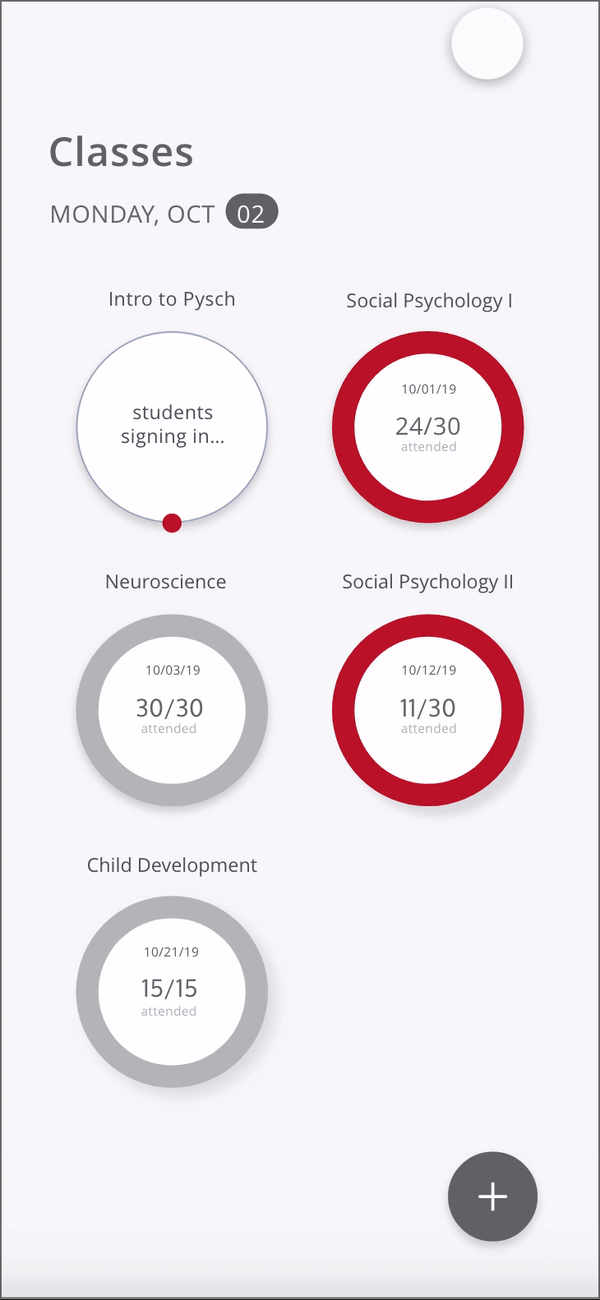 Feature Three
Reasons for Absence
---
After being absent, students can easily send their reasons for absence to professors/TAs. There are two choices for the students: unexcused absence and excused absence.

Each absence has a list of different reasons for absences. For example, excused absence reasons are interview, family emergency, health and etc.
Feature Four
Notifying Cancelled Class
---
Instead of sending emails to students, professors can notify them of a cancelled class by clicking on the date(s) of the cancelled class and writing a simple note (if wanted).


Feature Five
Viewing Reason for Absence in Inbox
---
After students send their requests for unexcused/excused absence, professors can find their reasons for absence through inbox.

The request shows the date(s) of absences, reasons of absence, and a small message. Professors have the choice to pend, reject, or approve the request.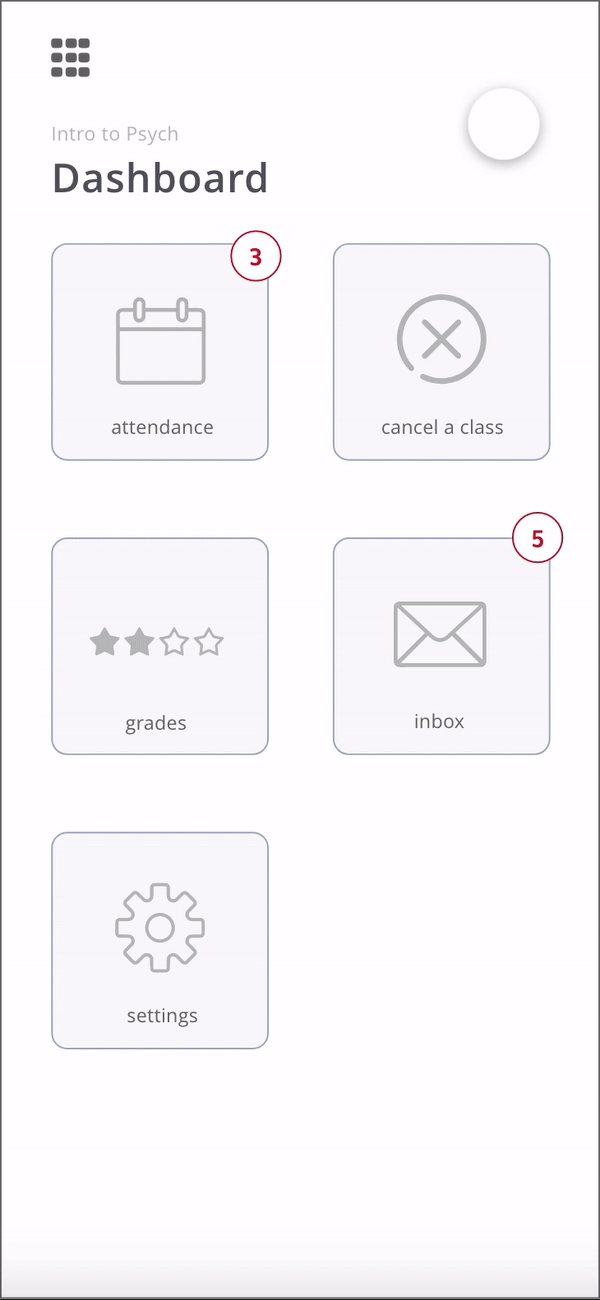 ︎

---
We identified three stakeholders through territory mapping

This design tool helped us visualize what topics we need to explore in the forward process and the three stakeholder groups: professors, TAs, and students.
We decided to plan out our research methods and the due dates for each tasks.

We also wrote a brief description to think about what kind of data we need to collect in order to understand the needs and the wants of the stakeholders, and understand why we are using certain research methods.
We wanted to understand the stakeholders' opinions about current attendance system and their difficulties

We conducted surveys with physical posters and google surveys to professors, TAs, and students to find out about their opinions about the current attendance systems and what difficulties they have.
We created an affinity map and an empathy map to find relationships among the various responses we've collected
After survey analysis, we did affinity and empathy mapping to find relationships between the survey insights we gained. The affinity mapping focused on the relations between most effective attendance systems and the least effective attendance systems. The empathy mapping focused on the opinions/ emotions of the three different stakeholder groups. In order to satisfy the needs of all stakeholder groups, these group exercises were very helpful.
These are the insights I gained from analysis:
Students
want more automated system

have faked attendance before

Forget to notify professors/TAs of their absence or lateness
Professors/TAs
want more automated system

hard to keep track of students who are late or absent, especially if the classes are large

Like to know students' reason for absence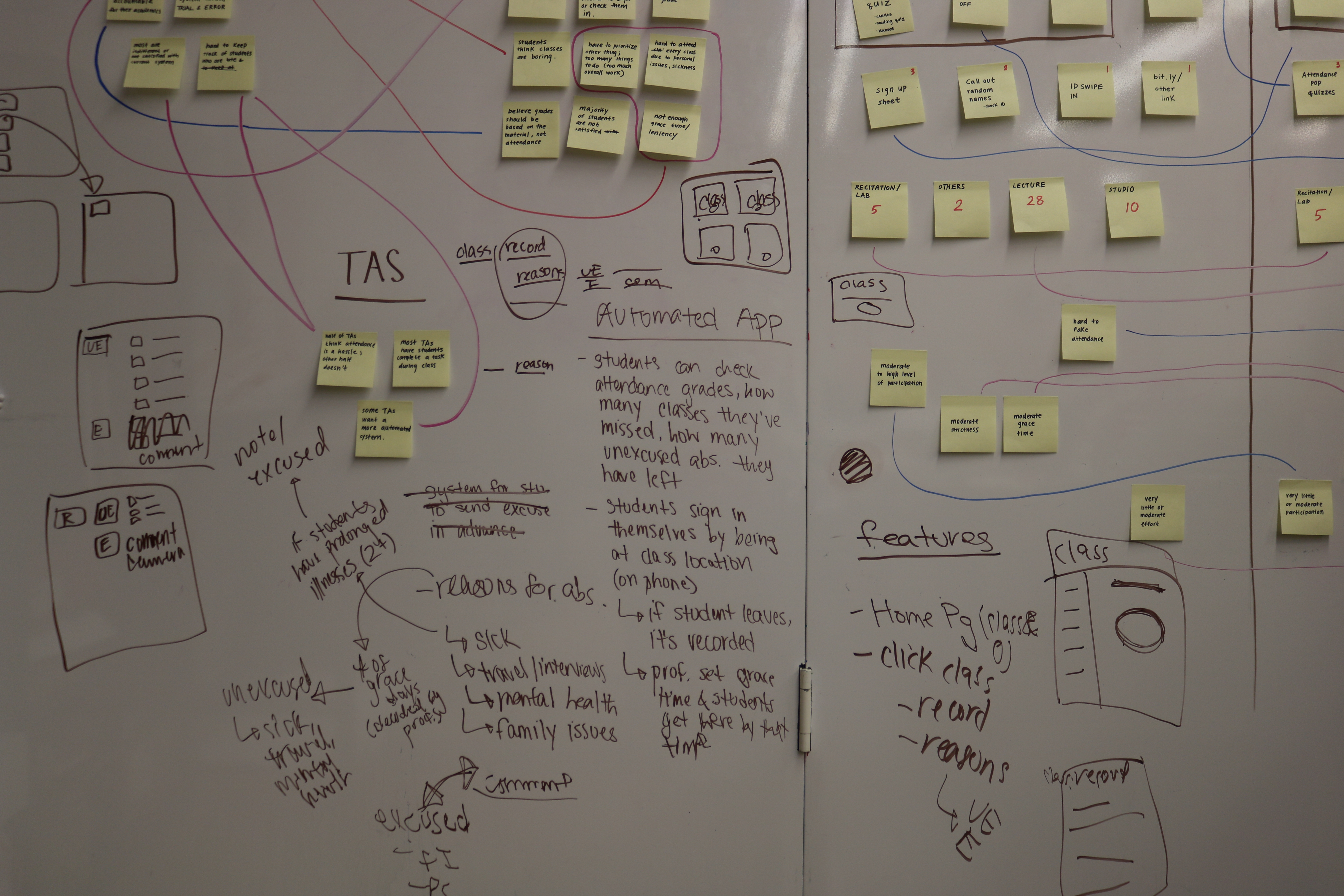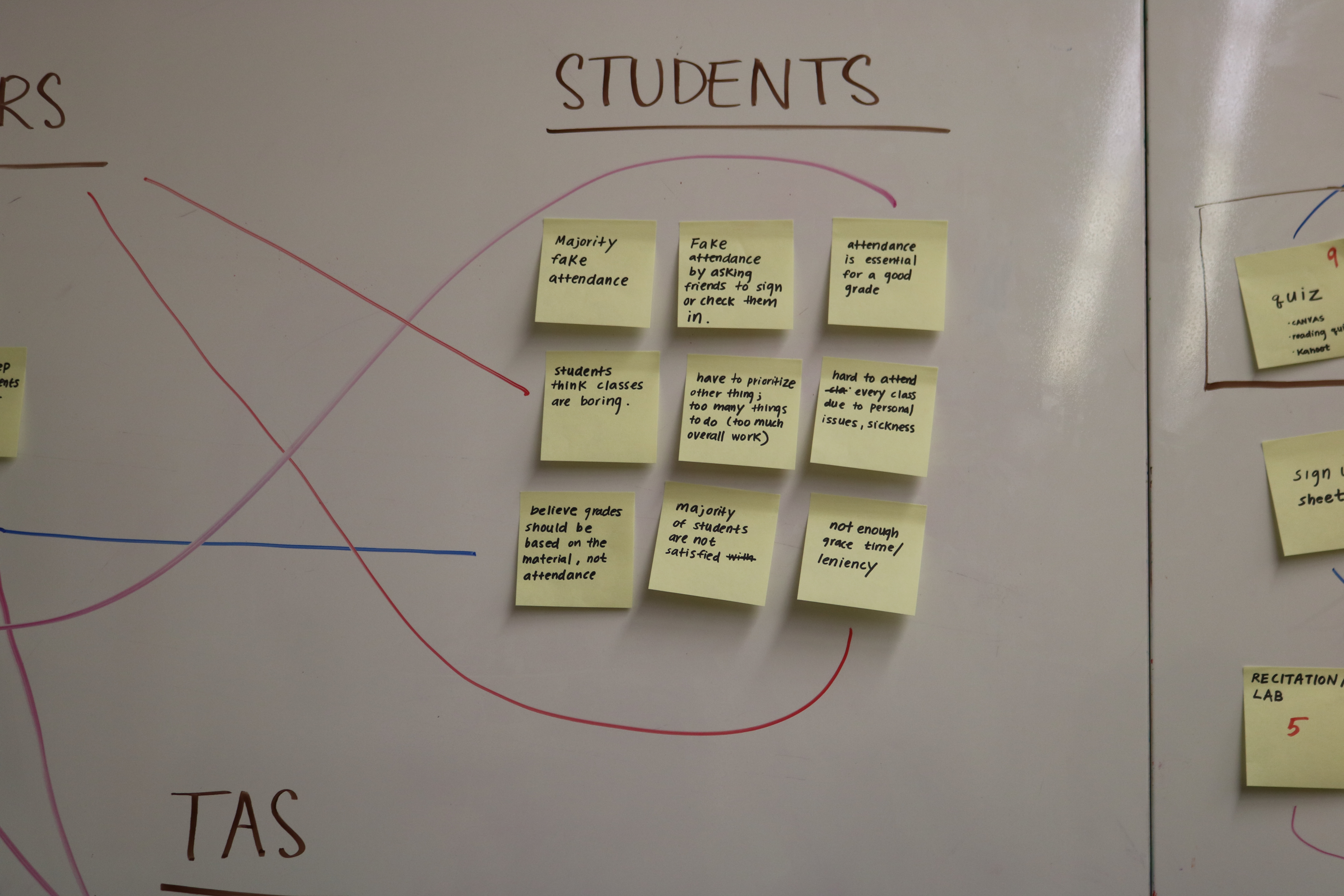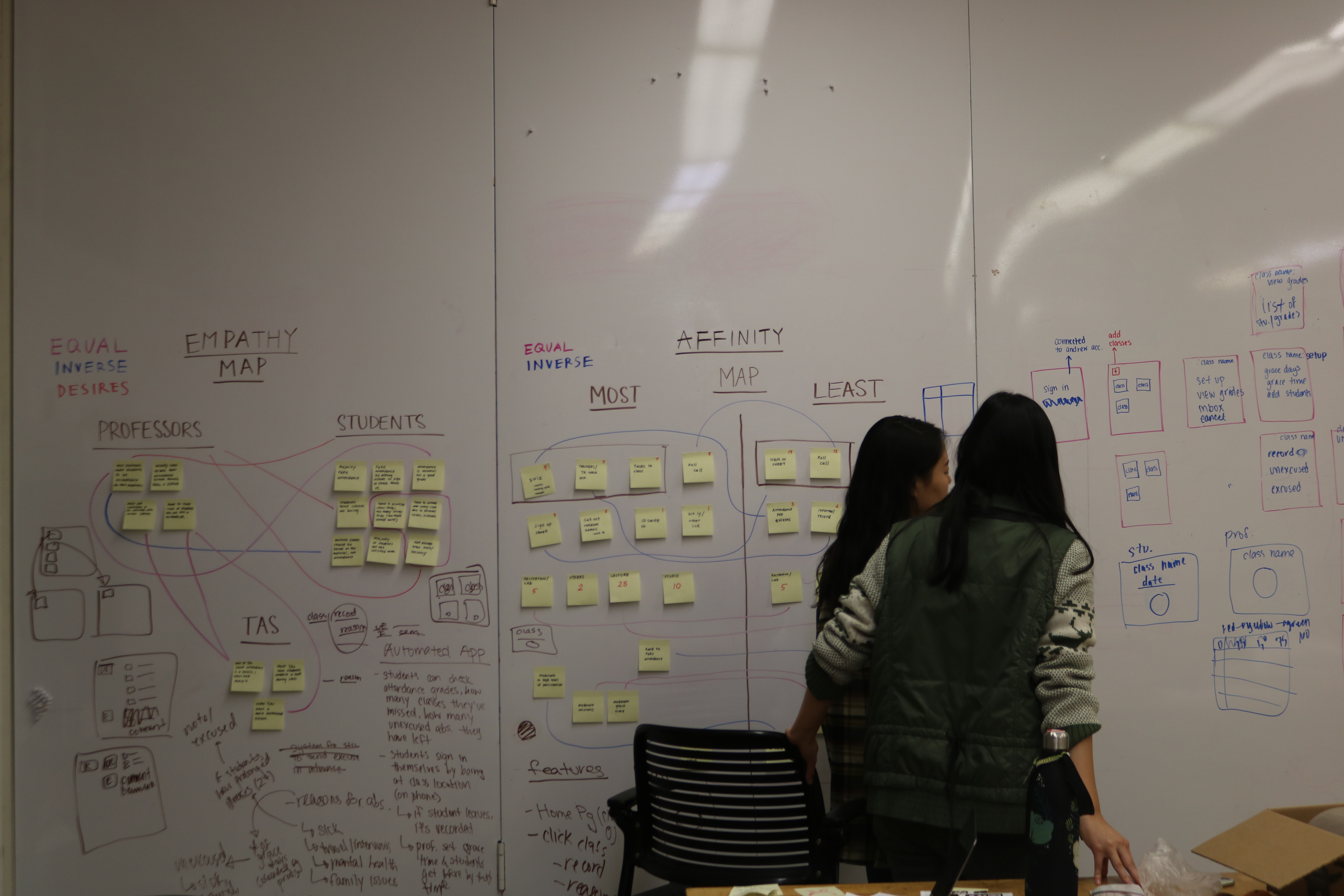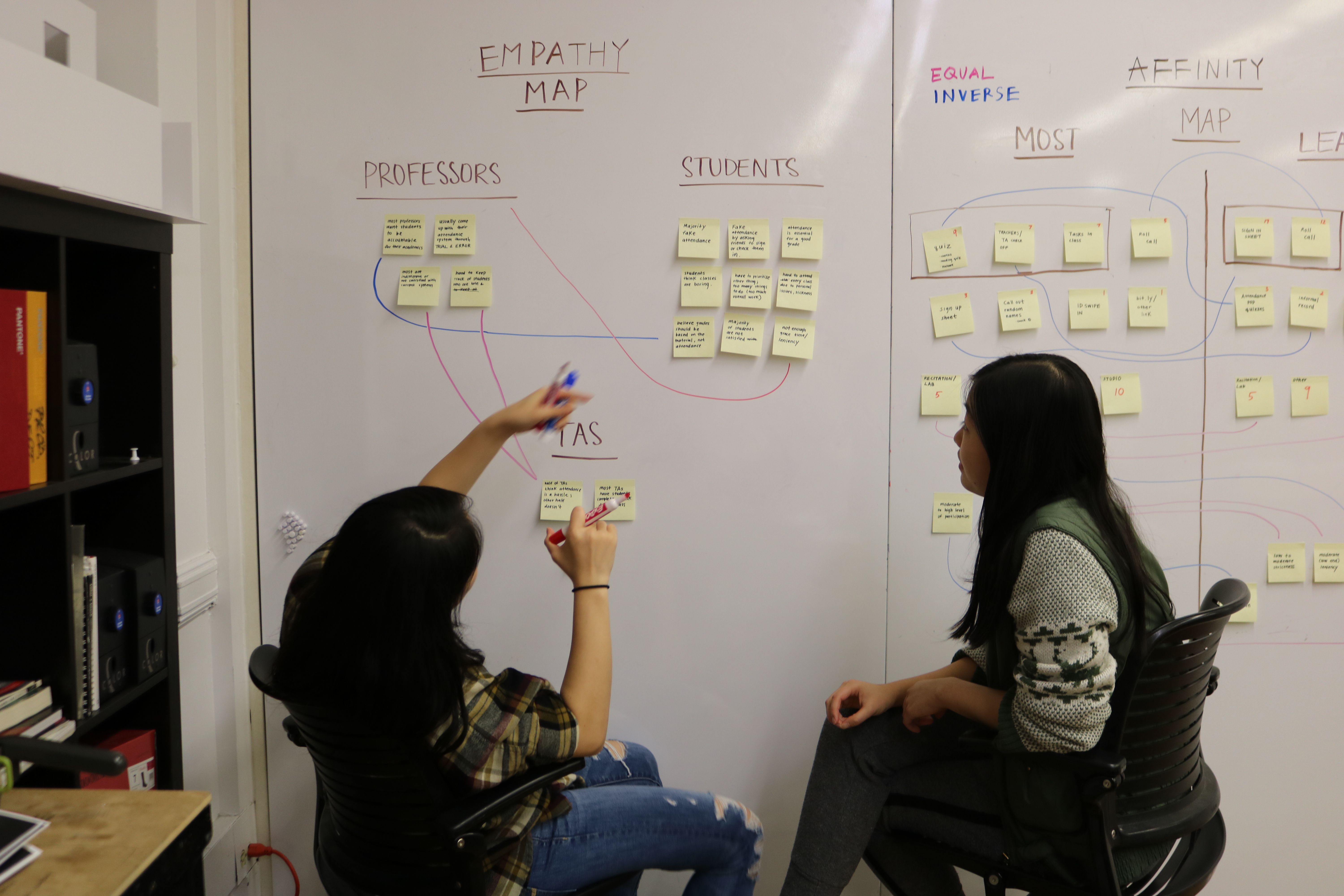 Based on students' and professors' needs, we created a user flow to identify key actions of users and main screens to focus on.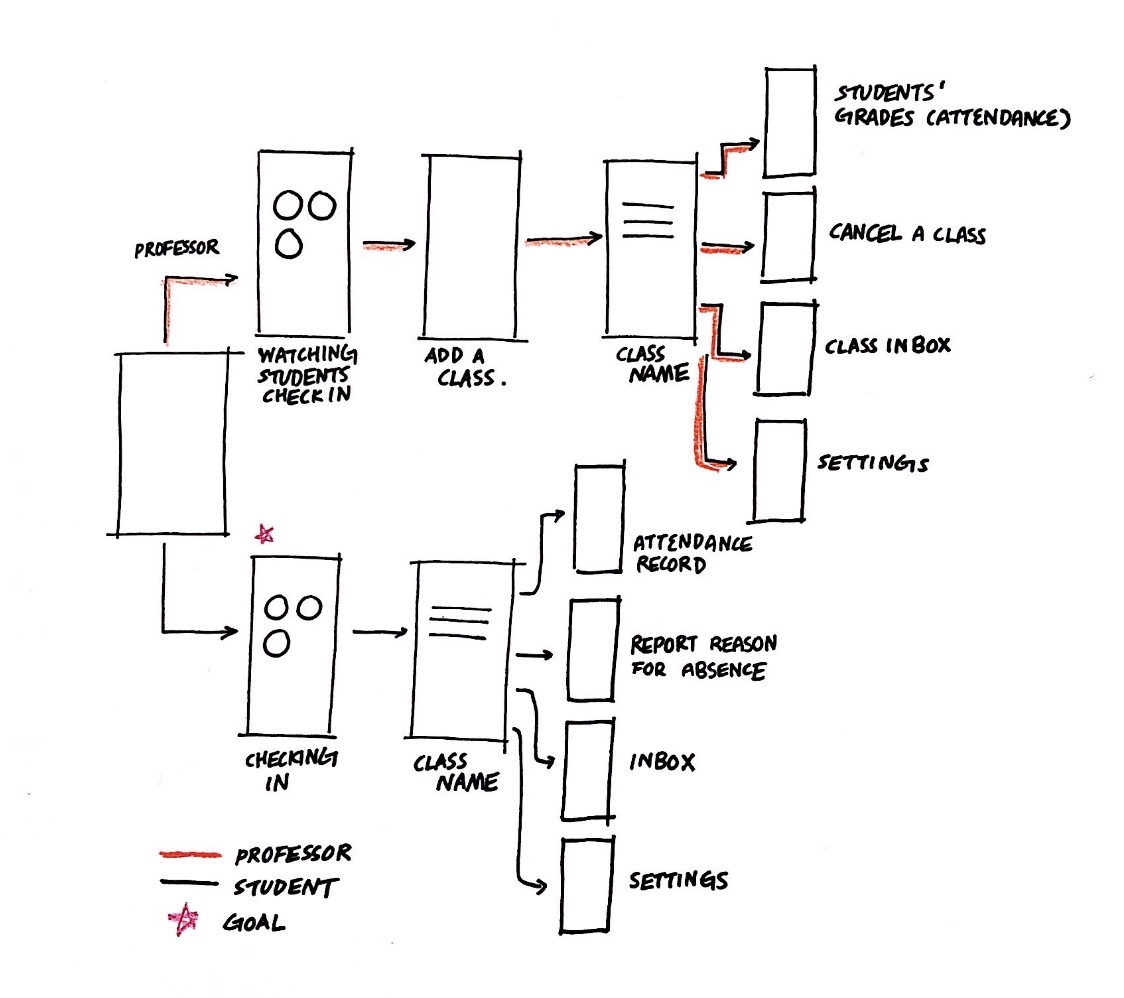 Low Fidelity

I created a low fidelity wireframe to understand the functionality of the app.
The UI elements are based on CMU's brand identity.
High Fidelity
The high fidelity screens established realistic experience for potential users and encouraged feedback.
How can this app be implemented in other communities like high schools or other universities/colleges?

User tests on professors and students
I learned to satisfy two types of stakeholders: professors and students.
Since the needs of professors and students were different in some aspects, I learned to think of different user flows for each stakeholder group and what screens they would need.