Internship Overview

For 10 weeks, I worked as a design intern for Nue24, a design studio under Bartok Group Company. Through this internship, I gained experiene in working on many different areas of design: branding, UI/UX, app design, digital media, video, photo art direction, social media marketing, and many more. Located in lower Manhattan, Nue24 is a creative group/ design agency that strives for client success through excessing simple and beautiful experiences. During this internship program, I worked closely with the founder who specializes in brand experience and the director who focuses mostly on brand engagement.
LGFB

BBC Doctor Who

Decorte
Shaesby
Challenge
LGFB is an international cancer support charity that helps boost the physical and emotional wellbeing of people undergoing cancer treatment. The directors needed a presentation summarizing users' activities and LGFB's online performance.

My Role
In order to analyze how the website is doing and how we as a team can improve the design of the website, I had to make a presentation for the client about the analytics showing users' activities and what kind of insights we can gain from it.
Challenge

One of our clients, BBC, challenged us to create a website for Doctor Who fans to connect from all different world.

My Role

Working with my teammates, I did a competitor analysis to gain insights on how other competitors are doing, what features we want, and any interesting immersive experiences we want to give to the users. At the end, we made a presentation for BBC to understand the current UI/UX trends and our competitors. We kept developing the presentations through different iterations to present to the client.

Below are slides from the presentations.

From this research, we came up with list of possible ways to attract fans from all over the world.
My Role

Photography
---
I had to take photographs of products for e-blasts and advertisements, and photoshop them for finals.
Videos
---
I edited videos for Decorte advertisements; Decorte needed an attractive, immersive video to show in SAKs Fifth Avenue. I had to ask myself, "How do I make a video that attracts the users in short period of time?"
Redesign of Website
---
In order to have more user-friendly, visual centered experience for Decorte customers, I worked with the director to redesign the website. I also used HTML/CSS to adjust the designs of the websites and understand what front-end developers need to change.

Below is the old website:
Below is the redesigned website:
E-Blasts
---
Every week, I designed e-blasts through communicating with the client. I learned to schedule e-blasts and design in mailchimp.
Redesign of E-blasts



For more elegant, beautiful branding of Decorte, I redesigned the e-blasts for Decorte. I looked into competitors like Chanel beauty, NARs, and other beauty brands.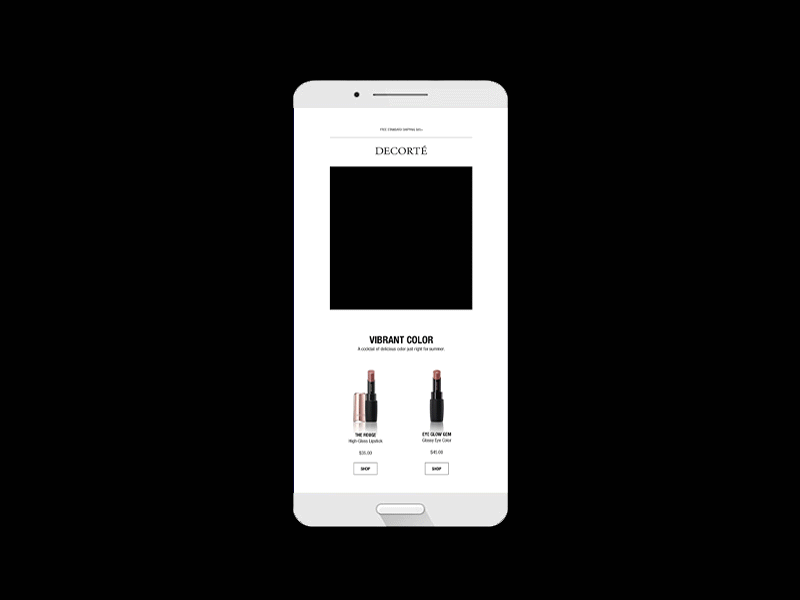 Challenge
Shaesby challenged us to redesign their brand, e-commerce website, and make responsive screens.
My Role
COMPETITIVE ANALYSIS
---
I looked into other jewelry brands and their e-commerce websites to understand the pros and cons they had. Through looking at brands that had similar goals/targets as Shaesby, I had a better understanding of what Shaesby is as a jewelry brand and what we strive for better branding and user experience.
UNDERSTAND THE CURRENT WEBSITE
---
I explored the features, visuals of the old website. These were some insights I gained:

1. Typography does not align with the brand image Shaesby wants.
2. Better UI needs to be built for consistency; every page gives a different mood/vibe of the brand image.
BUILDING WIREFRAMES AS A TEAM
---
Under the instructions of the director, I designed different pages for Shaesby. With the meeting with the director, we as a team did different iterations for the website.
Mobile Responsive
---
I was responsible for designing pmobile-screen version of the website. I came up with varying iterations to see which mobile screen website is best for the users.
Designing E-blast
---
I was also responsible for designing possible designs for the e-blasts.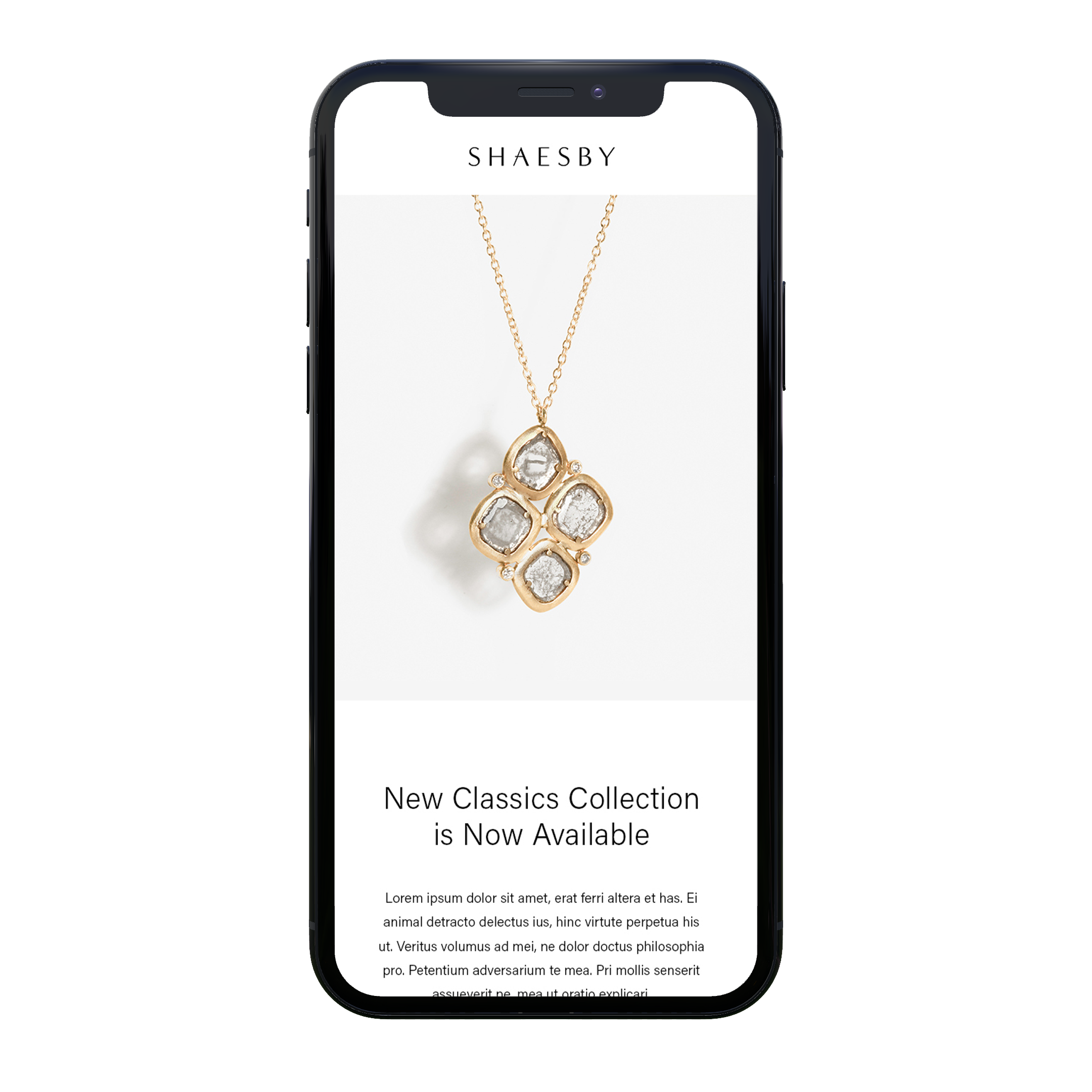 Research
---
Since Shopify broke its ties with Mailchimp, I was responsible for researching about which e-blast plugin is best for Shaesby. I wrote an report for the clients to look at so they can choose one depending on their budget.
User Test
---
I conducted user tests to make sure a consumer can accomplish the goal: buying jewelry on an online platform.
Shopify
---
I learned how to use the platform, Shopify, and used HTML/CSS to make adjustments.
1. Being Organized
2. Agile Development
3. Being Sensitive and Detailed
4. My Role as a Designer