CONTEXT


Personal Work


Spring - 2020


1 month

CONTRIBUTIONS
user research
UI/UX design

illustrations
---
People have difficulty booking flight tickets as a group, especially if they are in different locations.
During my study abroad semester, I personally had difficulty booking flights with friends from different countries to travel. I wanted to expand on this pain point and create a useful system for those who have similar need as me. Through research and analysis, I found out that a group of travelers wants different needs/wants when booking flights as a group.
---
How can we help groups of travelers coming from same or different locations book flight tickets together?
---
Air+ is an app that generates possible flight packages based on the needs of the whole group.

Air+ allows one of the travelers to create a trip and add other travelers to the trip. After inputting flight information. It generates possible flight packages based on the needs of the whole group.
After several user tests, we created the final prototype based on the feedback
Feature One
Same Airport | Similar Arrival Time Filter
---
One of the travelers can create a new trip and input the flight information for each traveler. The app generates different flight options for the whole group. If they specifically want similar arrival time and same airport location, they have filter options.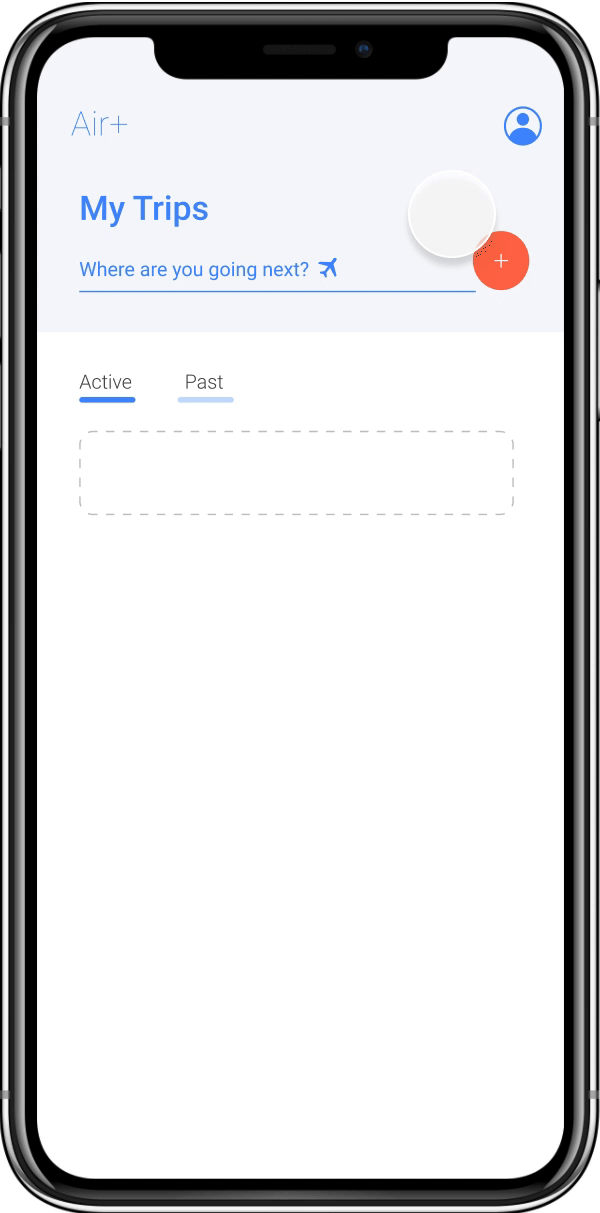 Feature Two
Cheapest Option
---
After they search for flight packages, the packages are automatically listed in the order from the cheapest. Users can purchase the flight packages that they want.
Feature Three
Select Different Ticket?
---
Since the app only gives flight packages, it does not have the option to look for individual flight ticket. However, the app allows an individual to
select a different ticket

if he/she is willing to change. The new ticket that is selected will swap back to the flight package.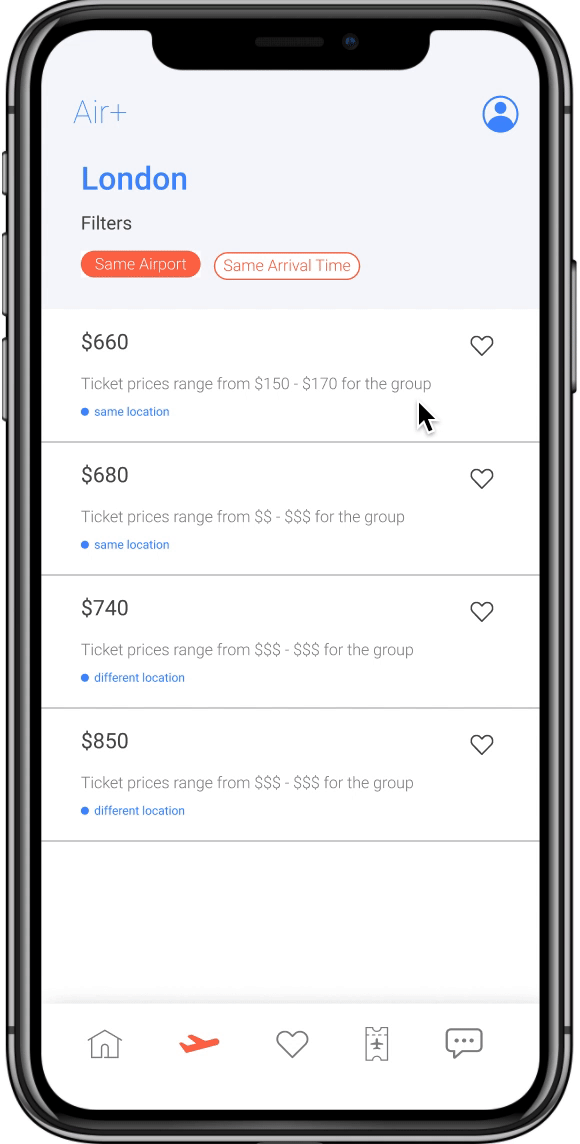 Feature Four
Communication | Favorites
---
All trip members have access to the trip page. In order to confirm the flight settings, they can communicate through the trip

chat page. They can go to favorites page

to see what flight package has been favorited.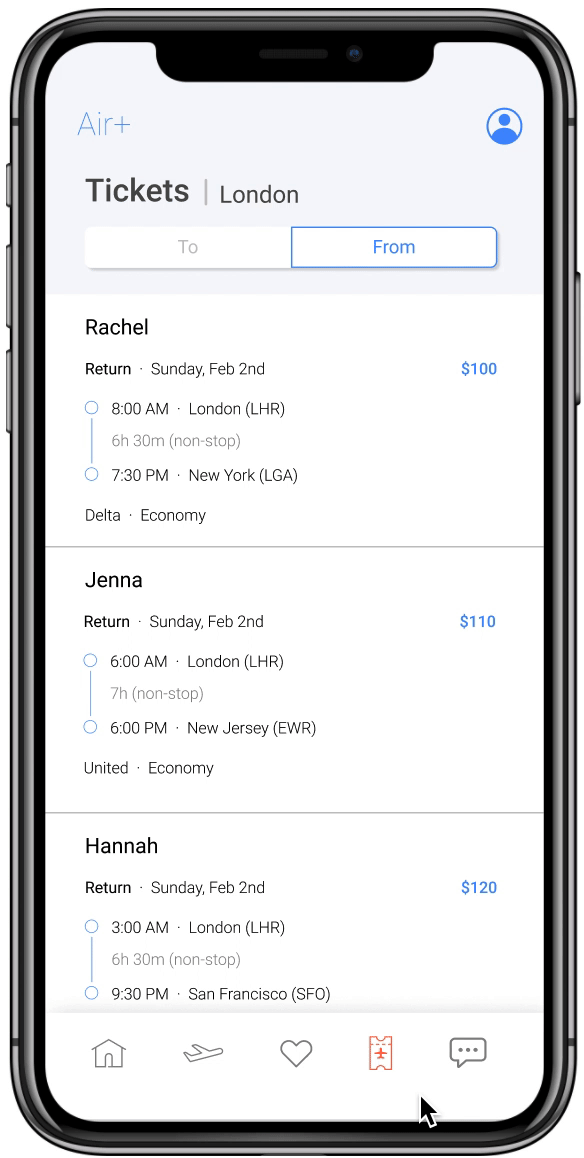 ︎

---
We wanted to understand people's needs/wants
We conducted qualitative data from 15 people through
interviews

. We interviewed people who had experience booking flights with a group of people. We wanted to understand how people book flights together and the difficulties they have with the system/method they use.
What are the pain points?
Coordinating which tickets to book for a group is difficult because

of time difference in different locations

finding flights that have same airports or similar times is difficult to coordinate

finding the

best price options

for everyone is hard
Considering these pain points, we formed two
user personas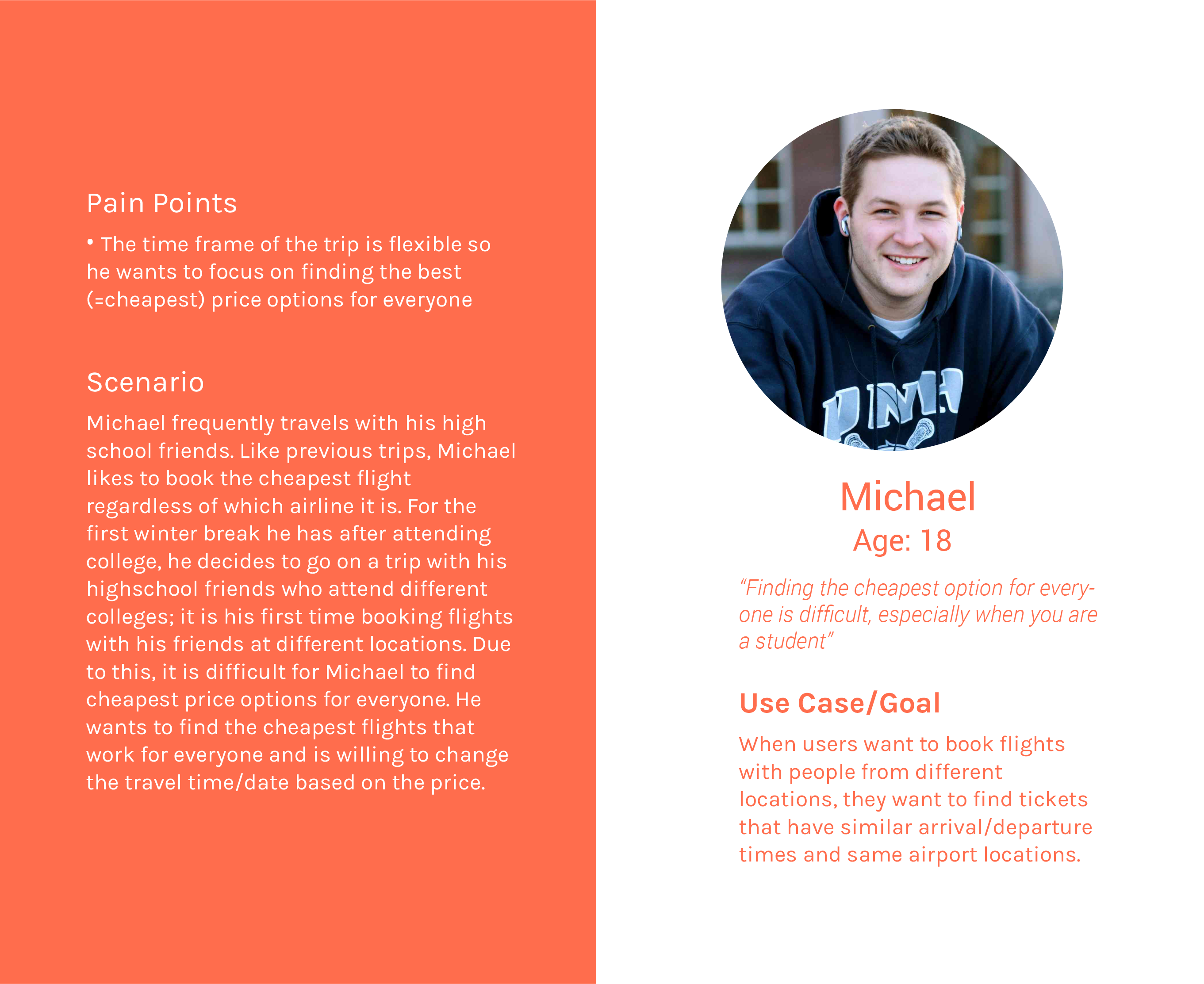 We formed two specific user goals that the app will accomplish

Users want to find tickets that have similar arrival/departure times and same airport locations

Users want to find the cheapest options for everyone as a group
I brainstormed content ideas and formed a user flow diagram to imagine how the users will interact with the app and accomplish the goals.
Designing the app
Considering the screens in the flow diagram, I sketched out wireframes in my sketchbook to look at the functionality of each page. Most important question I asked was, "How can the app be transparent about flight options across all travelers in a group?"
Low-Fidelity Prototype
We created a black and white wireflow to do a first user testing to catch problems early. Also, we wanted to make sure the users can accomplish the user goals before implementing colors and typeface.
Mid-Fiedlity Prototype
After the first user test, I implemented color and typography to the iterated version of the low fidelity prototype. I did another user testing for this prototype.
After each iteration, we conducted user tests for improvements
First user test asked about general purpose of the app, while the second user test required different tasks to complete to find out more about user behaviors. In order to improve on our app's design, we decided to make changes after the feedback.
Rethink ticket information layout; Hierarchy

Purposeful use of color; Consistency of button colors

Changing from swap to select a different ticket
I was responsible for creating the visual system for the app

Through research, users liked the minimalistic design of AIR+. Therefore, I chose a simple typography choice, Roboto. The colors, blue and orange, were chosen in order for users to easily click on buttons or checkboxes within the simplistic design. The colors also evoke happy, exciting, and energetic feelings from the user; these feelings are associated with traveling.
There were challenges along the way, but it was fun!

I learned to be more purposeful with my UI design choices. It is important to ask myself why I chose certain typeface or color.

I learned that design is an iterative process! It is important to do user testings before I design the final prototypes.

I learned about the importance of user personas. Every design choice I make has to be based on the user goals of the personas.