A Glimpse into the Future
CONTEXT

Spring - 2020
5 weeks

TEAM

Mimi Jiao
Jenni Lee
Sophia Kim
TOOLS
Illustrator
Figma
Indesign
CONTRIBUTIONS
visual identity
illustration
analysis of data
photography
---
How can we use data beyond the purpose of information delivery?

Each year, AIGA makes raw survey data for designers and researchers to review the chart or visualize. Based on the raw data, we wanted to focus on satisfaction levels and salary levels of the designers from year 1-4. By creating a data-driven design tool kit, we wanted to inform, encourage, and empathize with young designers.
What is the state of design today?
What can we learn through the data?
How can we visualize data in a creative/engaging way?
By keeping these questions in mind and the AIGA Design Census, we decided that we wanted to focus on the data category that is both subjective and related to emotions. In the category of satisfaction levels of designers, we were interested in the relationships between satisfaction levels and salary levels.
What concerns young designers?

"I wish I can see the future."

After analyzing the data, we found out there is a significant decrease of satisfied designers compared to previous years. Observing this data, we realized there is a lot of people experiencing uncertainty and stress, and at the same time, we were concerned about our future.

As young designers ourselves, we always had the experience of feeling concerned/insecure about our future. We wanted to lessen the stress for those who have similar concerns as us. This led us to select our user group as undergraduate students going into the real world.

There are instances when we say, "Will I get a full time job?" or "I wish I can see the future". This also led to our idea of fortune telling; how can we create an print experience that informs and empathizes with young designers? We decided to connect the theme to not only fortune telling, but also dry/satirical humor to relieve young designers. The project is essentially a guide/fortune teller that helps young designers to "listen up, the real world can be hard, but you are not the only ones"
After selecting our theme, we parsed the data of young designers who worked in industry from year 1 to four into three categories: satisfaction levels, salary levels, and their disciplines. It was interesting to see how each discipline had different number of designers within the total of 9,429 desingers.
After moodboard, we created a visual system that reflects the mysteriousness of fortune telling and tarot cards.
How will the users interact with the tools in the kit?

The user journey reflects the order in which peope will interact with the elements in the tool kit box. Since we wanted college students to interact with the tools in the box, we decided to create a box that can be placed in a design office or studios.
Decision Tree

For young designers who are unsure of what disciplines they are interested in, they can follow a decision tree to see which discipline matches them.
Tarot Cards
Going off from the idea of fortune telling, we used tarot cards to communicate our AIGA data on designers' satisfaction and salary. The front of the cards has tarot card illustrations that communicate jokes related to each discipline. The back of the cards has satisfaction level data related to each discipline. Based on our experience, we assumed that young designers are curious about their possible salary/starting pay. Users can find out more about the salary levels in relation to each discipline; users can scan the AR tag to find out more.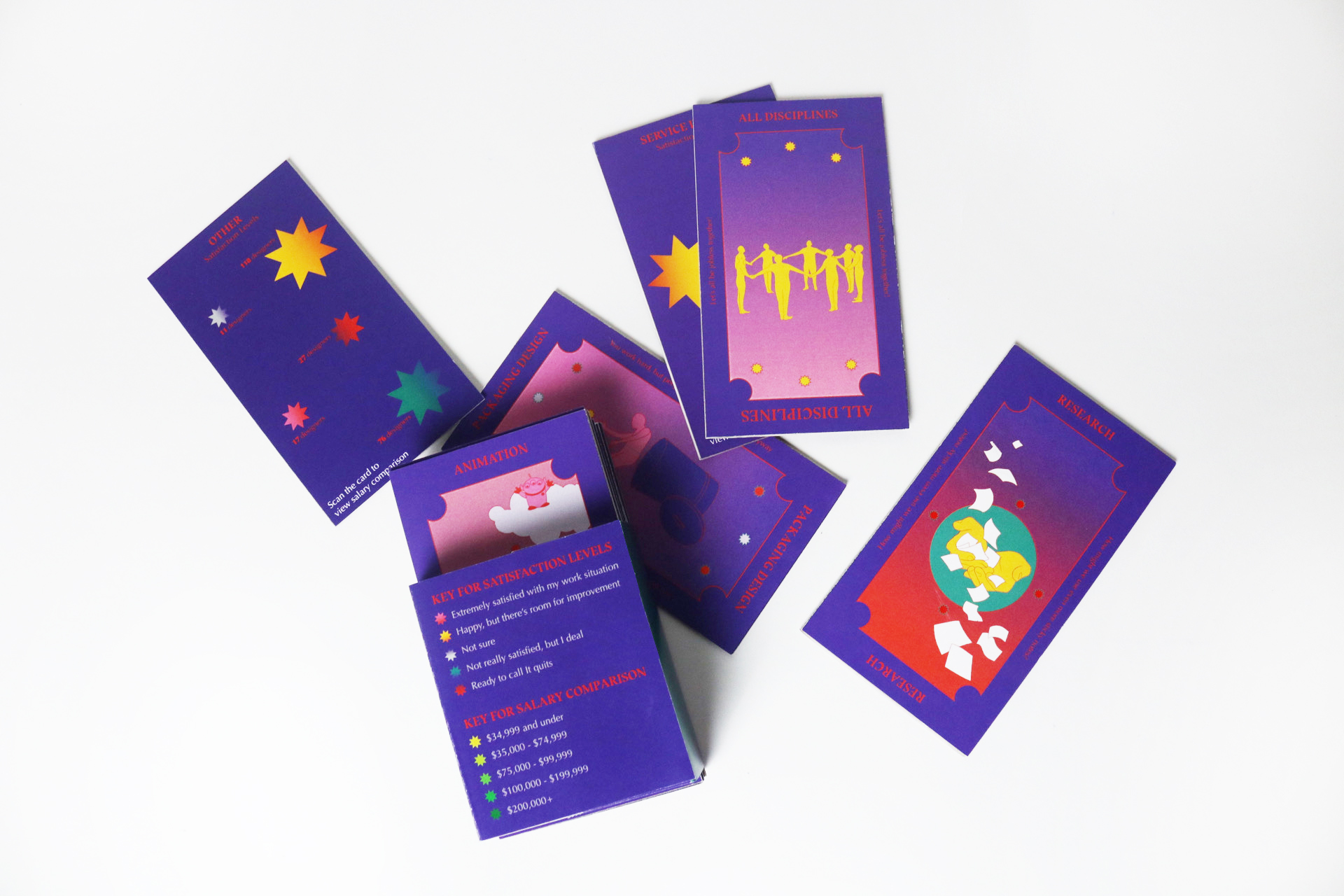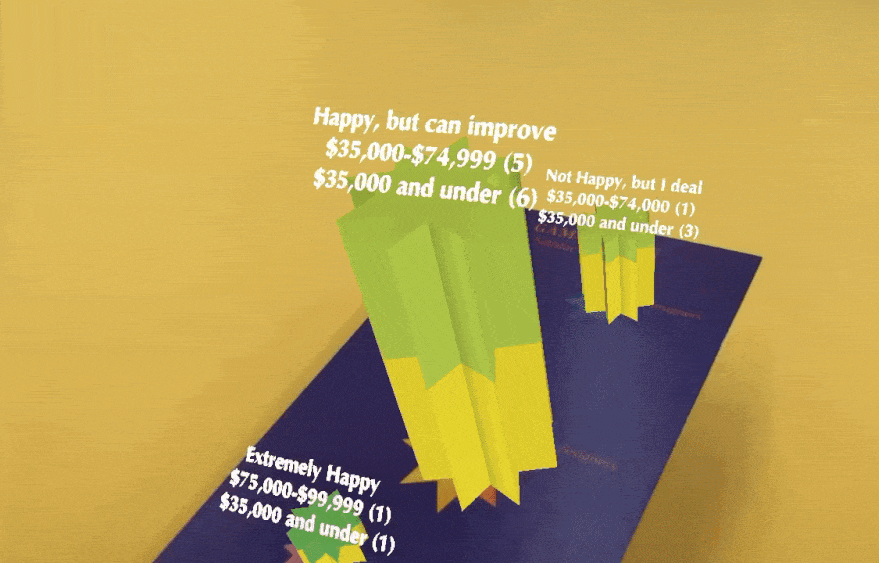 Designer's Guide Book
The Designer's Guidebook provides more qualitative information for designers. It includes common designer questions, important resources for each disciplines, tips/list of skillsets needed for designers.
The foldable fortune tellers are fun, take-home elements. Users can interact with the fortune tellers if they are stuck in a creative rut.